I heard that you are still worrying about bathing your pet?
When I turned around to take the shower gel, my body was wet by the pet; the long and thick hair was washed for ten minutes and found that the inner layer was still dry; after applying the shower gel and flushing, it was troublesome to re-adjust the water temperature!
Our pet bathing device can help you, it can be controlled by one hand, and it is easy to bathe your pet.
Main Features
✨ Pet Bathing Made Easy
Save time, money and water when you wash your furry friends at home with this innovative pet shower attachment. 

✨ Eliminates Mess And Stress
This all-in-one tool lets you brush and rinse your pet simultaneously, for faster bathing with no need for bucket rinsing. One-handed operation, leaving your other hand free to soothe your pet.

✨ Indoor/Outdoor Use
Comes with adapters to fit shower spigot or garden hose, so you can easily create a small animal grooming station indoors in your tub or a large animal shower outside. Includes 2.3m hose which makes this the perfect Christmas gift for your pet.

✨ Ergonomic Design


With its one-size-fits-all design, straps securely to either hand. The ON/OFF button rests in your palm, for ease of operation. The strap adjusts easily to fit all hand sizes.

✨ Quality Materials


The scrubber tool is made of silicone, strong enough for scrubbing thick fur, yet soft enough to be gentle on your pet's sensitive areas.
Instructions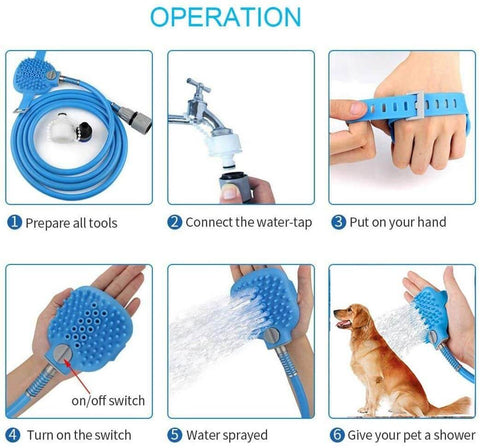 Specification
Material: Silicone+ABS+Metal
Hose Length: 2.5m
Product Weight: 405g
Package Size: 20 x 20 x 5cm
Package Includes

1 x Pet Scrubber
2 x Connector